Our newest creation, rFactor 2, creates a dynamic racing environment that for the first time puts you the driver into a racing simulator, instead of just a physics simulator. Changing tires, track surfaces, grip, weather and lighting make rFactor 2 a true challenge to any sim racer. http://rfactor.net/
I stumbled across this logo for rFactor2 and it caught my eye.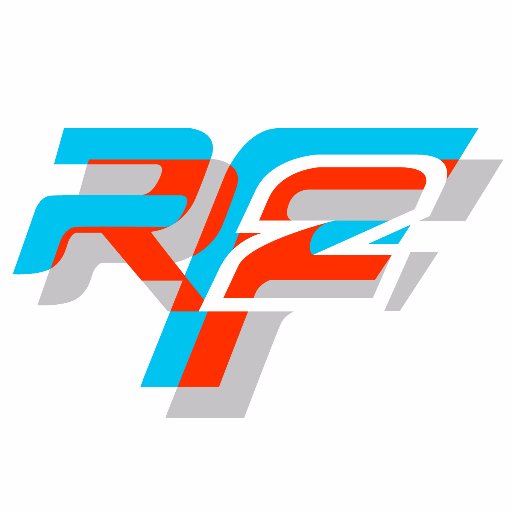 It was a big change from the first game
After a small amount of time creating tabs and digging deeper, there were some negative responses concerning the new look. At glance its fine, but the closer you get the more complex the shapes & colors and the whole image becomes a little blurry. The number two made from the negative space is a great concept, and the reference to 3D works well with the simulation nature of the game; however the execution I don't mind personally but it's a little messy.
I made a few changes. I removed the overlaying colored shapes and made the underlying shape the same one color and took the negative space of the two and made it more apparent. If I was looking for a new edition of a game I would already know what the game is/about, so making the number a focal point made sense. I thought the F lost a lot of presence with the overlaid colors in combination with the cutout, so pared it back and worked the arm of the letter into the number. Working with both the 3D effect and a motion blur effect I duplicated and warped the letter-forms to enhance the speed effect from the italicization.
The released version of this logo is great and I am not criticizing the original designer, this tweak is simply with my personal experience of games.